Assisted Living and
Senior Nursing Facilities
RemoteMD have developed a program that can assist in drastically reducing the number of unnecessary trips your residents make to the ER and the unnecessary, stress, discomfort and inconvenience it causes not only to them but to your staff and facility.
RemoteMD and Telemedicine
RemoteMD has been working with telemedicine in the offshore industrial setting for over 20 years. We have developed programs in which we were able to drastically reduce the amount of unnecessary medical evacuations from deep-sea gas and oil rigs by keeping workers onsite and treating them via our telemedicine platforms, saving the gas and oil industry hundreds of thousands of dollars each year in medivac expenses.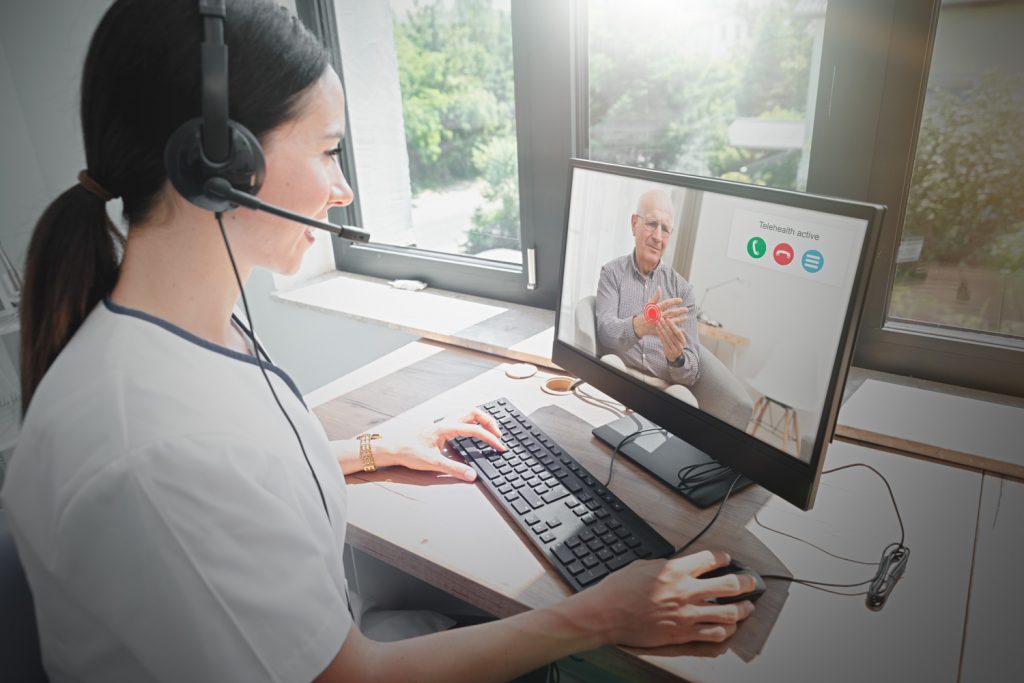 Since the first signs of Covid-19, RemoteMD began to design and develop a way to answer the needs of Assisted and Skilled Nursing Facilities by bringing this same success to the onshore medical arena while focusing on maintaining the comfort, dignity, and high-quality medical care for you residents. According to the Center for Disease Control, over 40% of ED visits were avoidable in in 2018 and that number has steadily increased since then.
Another CDC report showed that ED visits increased by 20 percent in the first decade of the new millennium. That translates to about 136 million visits per year. One in 5 Americans will visit the ER at least once annually. Of those trips, only 12 percent will result in admission, meaning many of those visits, as many as 65 percent, are deemed unnecessary. The result is very costly in terms of both time and money. 
Avoidable visits included
Mental status changes, UTI, GI symptoms, Fever, Metabolic disturbances, Skin diseases
With RemoteMD's telemedicine program, we are able to conduct a virtual visit with your residents 24 hours a day, 7 days a week when they need it, even if they have a PCP. If your primary care provide is not available, we will assist your resident and deliver all the information directly to your residents' PCP.
With our virtual state of the art equipment, we can conduct:
12 lead EKG
Determine blood pressure
Oxygen saturation
Heart rates
Temperatures
Monitor lung sounds
Very soon, conduct ultra sounds and echocardiograms
With this information, our providers can determine if your resident needs to leave your facility or can stay where they are comfortable and receive the medical care they need.
Contact us today at jkosmeh@remotemd.net
 Alleviate the number of unnecessary transports from facilities
It eliminates the need for quarantine when a resident comes back from the ED
It will drastically reduce the strain on staffing, transportation to and from the ED
 It can even create additional income with the fee for service for placing equipment onto the patient for our providers to do their evaluations
We will provide an expansive portfolio of specialty care physicians, Cardiologist, Behavioral Health, Geriatrics, etc. All available for same day consultations if not immediately available when the primary call is initiated with our general practice physician
If transport or specialty care is needed, our physician can communicate with the receiving physician and monitor the progress of your resident as well as provide all information to the PCP if one is listed
RemoteMD has developed a specialized training program to teach your staff how to use our equipment, focusing on the comfort of your residents, and assist our physicians in obtaining a full patient evaluation to provide the absolute best care for your resident. This will decrease the need for additional staff by educating you current staff on how to provide a higher quality of care
provide a higher quality of care
We welcome you to learn more about how to help create a kinder, higher quality of care for your industry.